DeKalb County Get Vaxxed Campaign
Strategic and collateral development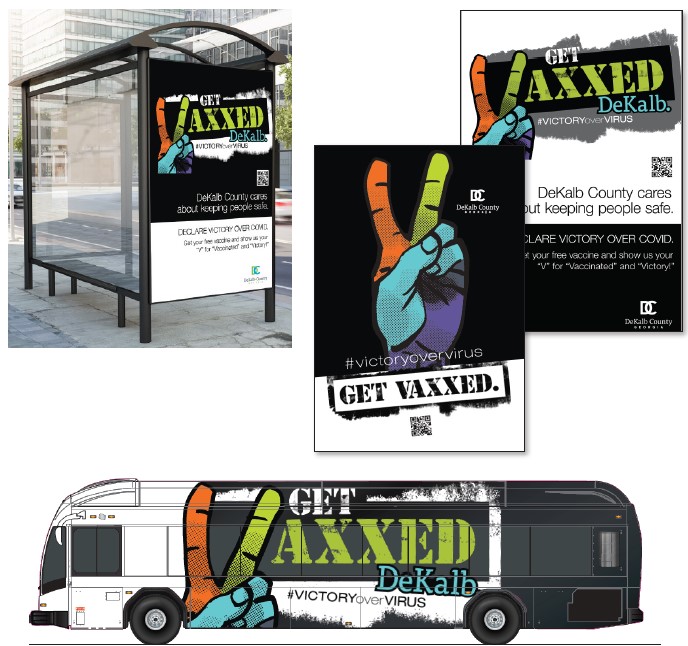 In declaring war on COVID-19, DeKalb County, Georgia, was hopeful to get as many residents of the county as possible vaccinated against the virus. Reaching out to Jones Worley, the county's CEO recalled the "V" for "Victory" hand signal raised by England's Prime Minister Winston Churchill during World War II; the county CEO wanted the same hand signal to indicate "V" for "Vaccinated." Jones Worley set out to create a campaign and logo that would appeal to a wide target audience: those in the county who were eligible for the vaccination but who had chosen, for any number of reasons, not to get vaccinated.
The goal: make "getting vaxxed" cool.
Following research, Jones Worley developed a hip, colorful and modern "V" hand-signal image and applied the design to hats, t-shirts, posters, bags, balloons and other premium items, as well as bus-station posters and a city bus that drives DeKalb County routes. The campaign was a hit, garnering extensive media coverage of the county's press conference, which featured one of four buses that would ultimately be branded with the "Get Vaxxed" logo. More important, the campaign has helped put DeKalb County ahead of several other Atlanta metro counties in COVID-19 vaccination rates.